Experience the FACTSTM Difference
CLI provides amazing, robust technology solutions to power freight and delivery businesses forward. Their road-tested software provides the right tools for you and your staff to make your company more efficient and your customers happier.
Developed by trucking experts, FACTS will solve your business headaches, providing immediate ROI and resulting in a more satisfied staff and customer base. Always being enhanced, serviced 24/7/365, and available via a hosted application or on your own servers, CLI's FACTS solution is reliable, respected, and right for your business.
Case Studies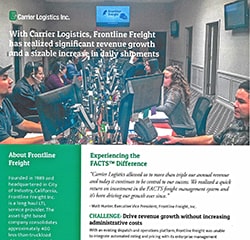 Frontline Freight, Inc. is a long haul LTL services provider headquartered in City of Industry, California. The asset-light based company consolidates approximately 400 less-than-truckload shipments daily. Using about 45 carrier partners nationwide, it serves customers in the continental United States.
Read how Frontline Freight has realized significant revenue growth and a sizable increase in daily shipments using our FACTS solution.
---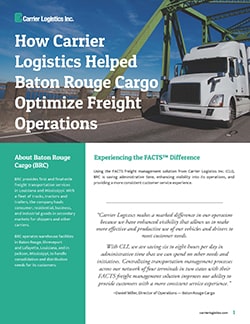 Baton Rouge Cargo provides first and final-mile freight transportation services in Louisiana and Mississippi. With a fleet of trucks, tractors and trailers, the company hauls consumer, residential, business, and industrial goods in secondary markets for shippers and other carriers.
Read how our FACTS solution helped Baton Rouge Cargo optimize freight operations.
---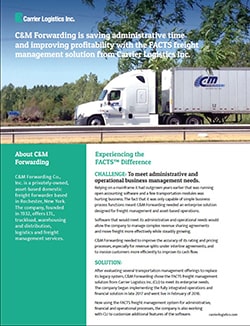 C&M Forwarding Co., Inc. is a privately-owned, asset-based domestic freight forwarder based in Rochester, New York. The company, founded in 1932, offers LTL, truckload, warehousing and distribution, logistics and freight management services.
Read how C&M Forwarding is saving administrative time and improving profitability using our FACTS freight management solution.