Complete Route Planning
A key component to the success of any multi-stop freight operation is the ability to properly plan and balance routes prior to loading your trailers. FACTS™ Decision Support facilitates the planning of a driver's workload long before the delivery or pickup has even been scheduled. At the heart of the FACTS is the concept of grid or geo-coded based routing. Grid based routing is a systematic scheme of pickup and delivery route planning based on your service area's historical and geographic information.
The system will pinpoint the location of every stop – even for first time customers – and will assign stops to drivers taking into consideration such factors as the location of the consignee, number of pieces and weight of the shipment, special customer requirements, special handling requirements, and arrival times. This is all done behind the scenes. If workload varies depending on the day of the week, week of the month, or month of the year, with proper set-up you can produce different where routes can be consolidated, dropped, or added to your standard plan. Using "Delivery Support", the routes can be further balanced and sequenced to better optimize the days' operation.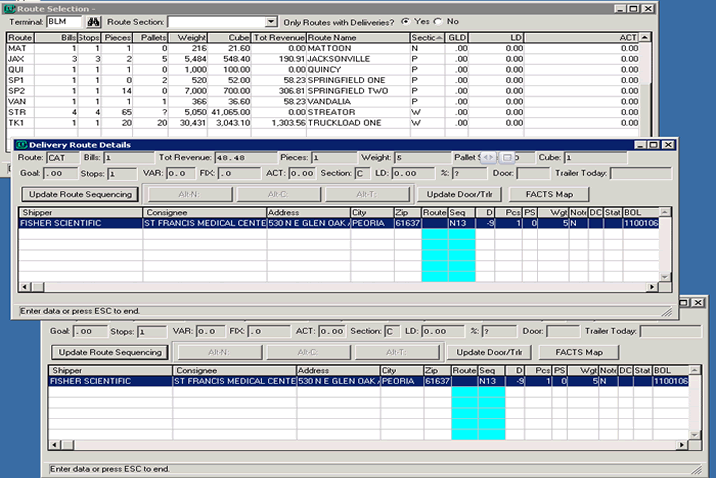 Highlights
See what the system has planned for your drivers before they start their day.
Auto-logic remove the guess work as to who's route a stop belongs to.
Drag and drop stops from one route to another when making changes on the fly.
Shipment info can be displayed many different ways.
Once verified by dispatch, route plans can be sent to drivers automatically in real time.
Route planning is complemented by our Location Intelligence digital mapping tool.