Rate Engine & Deal Management
FACTS™ is extremely flexible in the establishment of pricing levels. In addition to conventional per cwt pricing, FACTS™ supports rating on the basis of per pallet, per piece, per mile, per time increment, per kilogram, per cube, AQ (Any Quantity), Flat, Progressive programs (as an example, a flat price for the first unit of measure and then a progressively changing level of pricing that is added to the previously determined pricing). The structure of FACTS™ enables the creation of additional units of measure as desired. We also support Mark Up/Cost Plus pricing on the basis of your internal business rules. Our application allows our clients to design and load their own customized tariffs as well as provides an interface to products such as SMC3 Rateware suite that allows the user to acquire access to rate levels published by SMC3 such as the CZAR tariffs as well as the tariffs published by numerous carriers such as Yellow Freight, Old Dominion, etc. that are available in the SMC3 library.
While the robust rate engine is included in the FACTS application, it can also be integrated into any legacy system, allowing you to reap the benefits without adopting an entirely new TMS.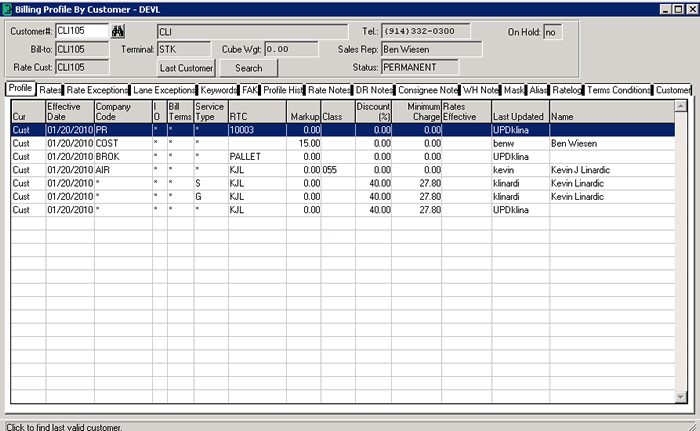 Highlights
Deal management offers an extra level of accuracy.
Significantly improves accuracy by automating day to day tasks.
Covers all aspects of transportation rate contracts and mark-ups, including discounts and accessorial charges.
Utilizes a number of factors including, but not limited to, weight, pallets, piece counts, miles, cube, dimensions and time – in both a straight methodology as well as progressively determined rates.
Rate Tables can be constructed on the basis of zip or postal codes (1 through 5 digits as required), state names, terminal locations, city state combinations.
Has the ability to create and define territorial regions and utilize them as Rate Areas within tariffs.
Multiple accounts can all be associated to a single Rate Customer thus greatly simplifying the maintenance of pricing by having a single point of maintenance.
Learn more about pricing flexibility and the robust rate engine included in the FACTS™ application. Find out more connecting with a CLI representative here, or sending an email to sales@carrierlogistics.com.