Complete Dock Management
Complement your dock operation with DMS, Carrier Logistics' FACTS™ Dock Management System. Whether for inbound or outbound freight, DMS improves dock productivity, enhances loading efficiency, reduces mis-directs and increases worker accountability. DMS controls freight movement from the time it arrives at the dock to the time it is back on the road again. DMS knows the exact location of the shipment, records the info in pro history and provides a record of every piece of freight passing through your facility.
Additional value comes from knowing where your freight is and who loaded it. All scanning information is recorded in the pro history for real-time tracking. CLI's DMS advanced dock management software will take the guesswork out of your business.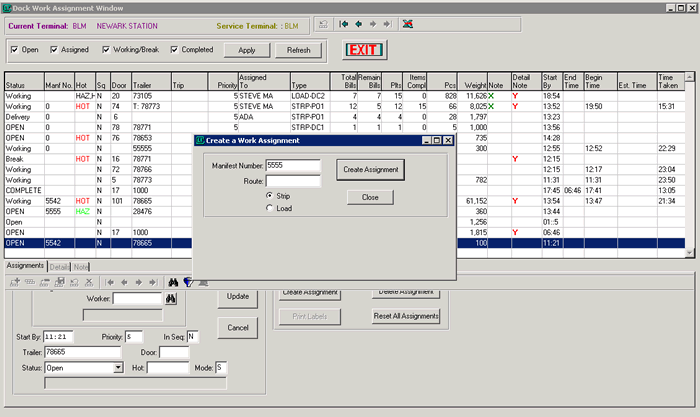 Click the image to view a short demo.
Highlights
Cut down on the amount of paper that travels on the dock Improve revenue by eliminating unbilled freight
Provide real-time freight tracking both internally and over the web
Provide customer service with accurate information and eliminate manual dock checks
Hold dock workers accountable by capturing employee errors and labor discrepancies
Reduce claims costs by providing instant over or shortage reporting
Improve dock efficiency by managing employee productivity automatically
Cut lost time by improving load planning and freight staging
Create alerts for high profile freight
Scan at the shipment or piece level