Carrier / Agent Payables
CLI offers a reconciliation program to verify carrier invoices and create an AP Voucher to set up payment to carriers. Carrier charges are recorded from probills and trip information processed by our highway system. The posting of a probill records the carrier cost and liability along with the revenue.
When a carrier presents a statement or probill for payment, our Carrier/Agent Payables process is used to compare probills to the carrier's statement or probill. If the accrual is not correct, the payment amount can be updated to set up the proper payable and write off any difference.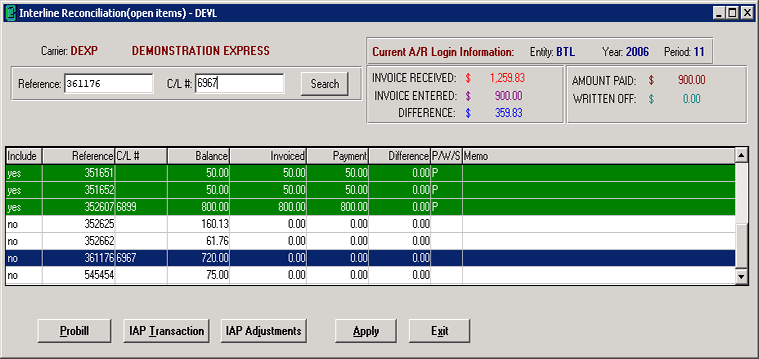 Highlights
Ensures the invoices received are matched up to probills that have been posted.
Tracks payments to carriers and agents.
Allows a user to adjust the payment amount and write off any disparities between probill and carrier statement. Similar to accounts receivable where open items reflect the net of transactions to display the balance due.
Inquiries show balance due and all transactions that have been created and sorted by carrier, reference (pro number, trip number, group number) and C/L number.
Changes to an incorrect carrier or agent can be easily reapplied to the correct party without adjusting and rebilling the original probill.
Write-offs can be done as a group rather than having to be reconciled individually.
Items for a particular carrier and date range can be automatically reconciled and create a voucher for payment.
Learn more about our Carrier / Agent Payables process & CLI Reconciliation Program by connecting with a CLI representative here, or send an email to sales@carrierlogistics.com.